GreaterSport are seeking an organisation to help design and deliver the next stage of our systems leadership approach.
Systems leadership is a network of people from different levels and places, working collaboratively around a shared vision to create change, in our case supporting more people to live active lives.
It's about relationships, behaviours, values and trust, and is essential in reducing inactivity and enabling active lives for all - two key components of the GM Moving in Active strategy.
To support systems leadership, GreaterSport work to realise the power and potential of a movement of people that is reflective of the population, to inspire, engage and support people to live more active lives.
Strategic Lead for People and Leadership, Claire Tomkinson, said: 
"We can only achieve active lives for all by working collaboratively across sectors to build and foster relationships with and between people, communities and system partners.
"We must ensure that they all have the skills, knowledge and confidence required to develop the necessary opportunities for the Greater Manchester city region to move more and tackle inequalities.
"A new collaborative partner will lead our new approach and support participants to develop the knowledge, skills, and work with others to put new learning into practice.
"It is also vital that they're able to connect with existing workforce and leadership development initiatives across Greater Manchester so we're adding value, not duplicating existing efforts."
GreaterSport's current systems leadership approach has been evolving in Greater Manchester in collaboration with local and national partners since March 2020.
Since April 2022, we have engaged nearly 200 people from close to 100 organisations to help them develop their knowledge and understanding of systems leadership approaches.
We are now seeking an organisation to work alongside us to help us further develop this work over the next two years up to March 31, 2025. To submit an application, download the tender document.
Deadline: 5pm on Wednesday 8 February 2023. For more information, contact Claire.
---
If you're an individual and organisation with the skills, knowledge and capacity that we (and our partners) could utilise on an ad-hoc basis to support GM Moving, register on our database of consultants.
---
Previous systems leadership participant feedback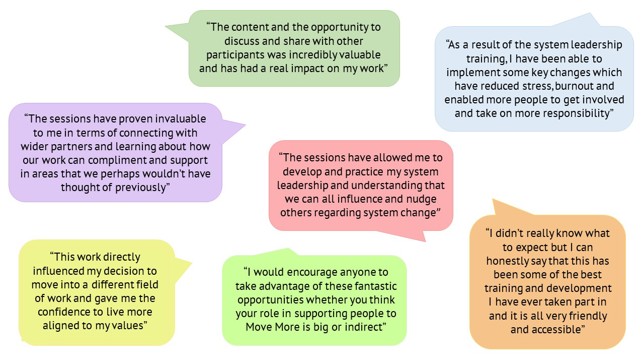 ---
Downloads