We know that being active is a key part of a healthy lifestyle and is a habit that begins in childhood. The Chief Medical Officer recommends that children and young people are active for at least 60 minutes a day: 30 minutes at school and 30 minutes outside of school.
In Greater Manchester 45.2% of children are achieving an average of 60 minutes of physical activity a day, this is a significant improvement on the results from last year, there has been an increase of 5.3%. 
Whilst the number of children achieving an average of 60 minutes has improved significantly it is concerning that less than one in five young people is moving for 60 minutes every day.
The activity levels in schools are especially concerning with six in ten young people not meeting the recommend 30 minutes of physical activity a day. Meanwhile, some areas are seeing just 1/3 of children achieving the recommend activity levels.
Within the various cohorts of young people there are major differences in activity levels. Those from a more affluent background are significantly more active than their peers from less affluent backgrounds with a difference of over 17%. Meanwhile, over half of boys are achieving Chief Medical Officer guidelines, in comparison less than four in ten girls are achieving this.
Whilst at a GM level there has been no significant change in volunteering levels at a borough level there have been some significant increase with Stockport and Trafford both seeing in excess of 12% increases.
Information about each of the boroughs and their Active Lives results can be found here.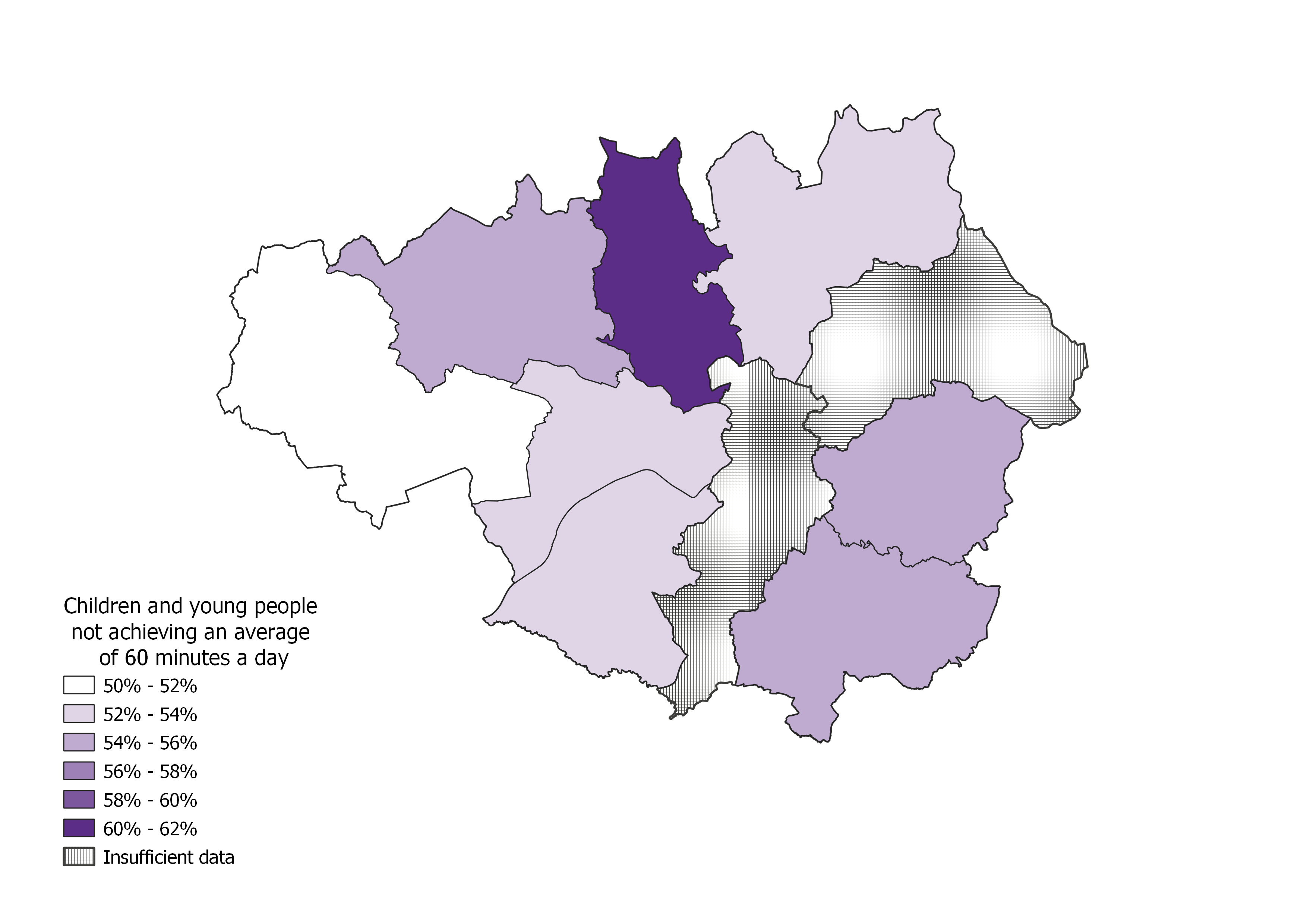 The Wider Picture
It is promising to see that activity levels have increased across the different levels of affluence at a national level, however, a stark contrast remains. The gap in the most active between those from the most affluent families and the least affluence 12%.
With regards to the gender gap this has continued to grow despite a significant decrease of 4.0% in less active girls, the increase in boys activity levels has been at a greater rate than girls.
Whilst there has been no significant change in swimming abilities nationally across the year groups there has been changes amongst certain cohorts. What is particularly promising to see is the significant increase in those with a disability or long term health condition being able to swim 200m, there has been a 3.3% increase, this is, in part, driven by a 5.1% increase of those with 1 impairment.
There is also a  relationship between activity level and life satisfaction with young people who are active rating their life satisfaction higher than the least active, 6.71 compared to 6.11. This is also reflected in those viewing life as worthwhile with active young people scoring 6.94 compared to 6.16 for the less active