In March 2018, Andy Burnham joined Elaine Wyllie, founder of The Daily Mile™, and made the commitment for Greater Manchester (GM) to become the world's first Daily Mile City-Region. Today we are celebrating taking a step closer to achieving that ambition as we reach the milestone of 500 primary schools signed up to The Daily Mile across Greater Manchester.
The Daily Mile™ Children Fit For Life initiative is backed by a range of government departments and agencies and aims to improve outcomes for children and young people through embedding consistent physical movement into a daily routine.
Elaine Wyllie, Founder of The Daily Mile says, "It is so exciting to see so many schools and children get involved in The Daily Mile and this Jersey Competition. Community and wellness are so important at the moment and getting moving everyday can really help our mental health. With Covid-19 shutting schools again, staying physically and mentally healthy is more important than ever. I had so much fun picking the winner of the Jersey Competition and am just sorry I couldn't pick more than one! We now have an amazing 3 million children running The Daily Mile and I hope to see ever more cities reach the milestone that Greater Manchester has!"
As GM approached this milestone, GreaterSport ran a competition for school children to design a running jersey to celebrate the achievement. Hundreds of children from across the city region sent in their designs, the winning design selected by Elaine Wyllie will be presented to its creator Freya Costello from The Willows Primary School, and to Greater Manchester Mayor, Andy Burnham. The jersey will be able to sit alongside the Daily Mile plimsolls that Andy was presented with by Elaine Wyllie in 2018.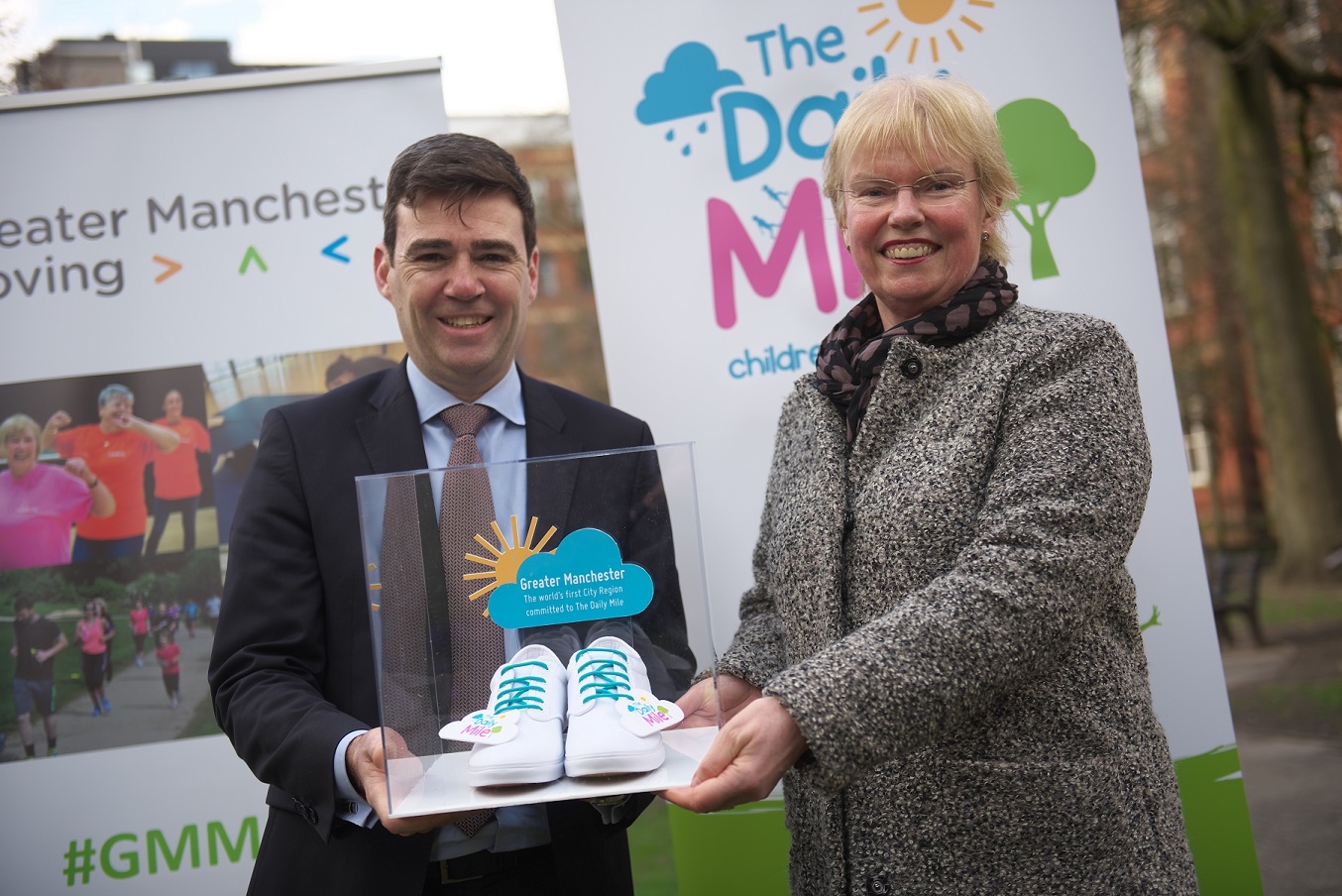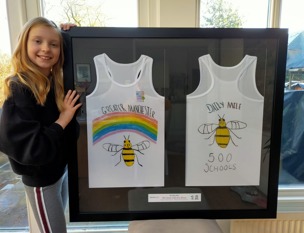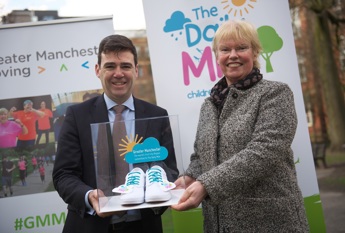 Mayor of Greater Manchester Andy Burnham said; "I'm delighted that 500 primary schools in Greater Manchester are now taking part in The Daily Mile. I want all young people to have the best start in life, and that's why initiatives like The Daily Mile are so important to help ensure that all of Greater Manchester's children have the opportunity to be physically active.
I want to encourage all schools who aren't yet signed up to get involved so that their students can benefit from the physical and mental health benefits that moving more can bring. Here in Greater Manchester we remain committed to becoming the world's first Daily Mile City-Region, and I look forward to seeing the number of schools and other education settings taking part continue to grow."
Since the commitment to becoming the world's first city region, GM has received investment from Sport England as part of the biggest expansion of the programme since it originated in 2012. This enabled the recruitment of a local coordinator to support and encourage more schools across GM to sign-up and benefit from taking part in The Daily Mile. This investment, alongside the development of the Daily Mile Destinations campaign, has helped us progress towards our ambition and support more schools to sign up and take part. Developed in collaboration with teachers, the content links into the wider school curriculum as children complete daily miles to travel around the world.
Now, to further advance the growth of The Daily Mile and cement the close relationship that The Daily Mile Foundation and GreaterSport (on behalf of Greater Manchester) have sustained over a number of years, we're delighted to announce that a new letter of intent has been signed by both organisations. The ambition is to drive forward new opportunities to share learning, resources and collaborate with the principle aim of improving the physical, emotional and social well-being of children, young people and adults regardless of age or personal circumstances, across Greater Manchester.
Hayley Lever, GreaterSport CEO and GM Moving Exec Lead said; "The Daily Mile is a brilliant initiative helping to provide more opportunities for people to move more. We know that getting outside each day, even if just for 15 minutes, can bring great mental and physical benefits. Reaching this milestone achievement today is a testament to the commitment of the Greater Manchester system to ensuring our children live happy and healthy lives. This letter of intent is an exciting next step in our relationship with The Daily Mile Foundation and I look forward to continuing to grow the initiative across our city region."
With the majority of children now being home-schooled due to the reintroduction of a national lockdown, The Daily Mile have updated and re-launched The Daily Mile At Home. The family fun challenges support families to keep motivated and to keep moving safely together. Each week The Daily Mile will release new challenges for children to complete to help keep them happy and healthy during these difficult times.
Hayley Lever added; "Helping people keep moving is arguably more important now than ever before as we see the impacts of coronavirus on children's activity levels reflected in last week's Active Lives data release. With the intermittent closure of schools, sports clubs and leisure facilities during the pandemic, children have had less opportunities to be active. Utilising the Daily Mile at Home resources whilst children are unable to attend school will be a great way for families to move more together, helping to look after their health and wellbeing and hopefully create healthy habits long after the lockdown."
Find out more about The Daily Mile at Home and access the resources here.
If you want your school pupils to benefit from taking part in The Daily Mile, sign your school up here.