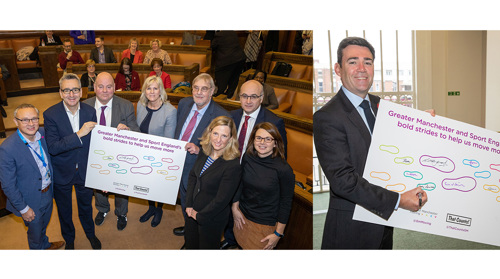 Greater Manchester is upping the pace to help people be more active, with a new agreement between Sport England and organisations across the city-region – the only partnership of its kind in the country.
Sport England's CEO Tim Hollingsworth met with Mayor of Greater Manchester Andy Burnham and leaders from the NHS, local authority and voluntary sector today to refresh the Memorandum of Understanding (MoU)1 between Sport England, the Greater Manchester Combined Authority (GMCA) and the Greater Manchester Health and Social Care Partnership.
The team of organisations and wider community will be working together over the next five years to support Greater Manchester's ambitious GM moving plan – with the shared goal to get 75% of Greater Manchester's residents active by 2025. This aims to make movement a normal part of everyday life in the city-region, addressing the significant health impacts and inequalities linked to inactivity.    
Big strides have been taken since the MoU was first signed in 2016, including increased walking and cycling investment, a whole system approach to health and wellbeing and continuing journey of GM health devolution. With some of the country's highest levels of inactivity, Greater Manchester is also running the country's largest community pilot initiative2  and launched its That Counts! public health campaign last month as part of this.
There is already evidence the community-wide approach is working, with the city region recently celebrating the latest official statistics3 that show that there are now 73.3% adults active for at least 30 minutes a week in Greater Manchester, which equates to 1,639,000 adults. This is an increase of 14,900 from the survey 12 months ago . The trend is positive and more people are moving but there is more work to be done, with inactivity levels remaining higher than both the North West and England averages and more than half a million adults active for less than 30 minutes a week, despite 30 minutes a day recommended.
Mayor of Greater Manchester Andy Burnham, said: "Already through this campaign we have shared lots of stories of the brilliant work that is happening in communities across our region to enable active lives. We are stepping up the pace, with almost 15,000 people moving more as a result of our campaign we continue to close the inactive to active gap twice as fast as the national average.
"There are still challenges to get more people in Greater Manchester moving, inactivity levels remain higher than both the North West and England averages, but by working together and changing our behaviour as a community, we can close that gap and make Greater Manchester an exemplar for the rest of the country."
Tim Hollingsworth, Sport England's chief executive, added: "Being active has so many positive benefits,  supporting people to live happier, healthier lives. Our recent Active Lives survey has shown great gains in the number of people getting active across the country. But inequalities remain and we must continue working to make sure the benefits of an active lifestyle are available to everyone. That's why the partnerships with key organisations across Greater Manchester are so important – they will allow us to reach even more people with opportunities to get active."
Lord Peter Smith, Chair, Greater Manchester Health and Social Care Strategic Partnership Board, added: "Supporting and inspiring people to be active will bring significant benefits for health, wealth and wellbeing. That's why we're focused on making moving a normal part of everyday life in Greater Manchester. We are encouraged by the recent signs that our approach is having an effect. But we know there is more to do if we are to achieve our GM Moving ambitions for our residents, and our city-region as a whole".      
Underlining the Greater Manchester way of 'doing things differently' today also sees some of the region's biggest organisations confirm their commitment to help employees fit more of the recommended 30 minutes of physical activity into their working day. The first businesses to get involved in the active workplaces initiative are Manchester Airport and the Manchester University NHS Foundation Trust with a combined workforce of 28,000 across Greater Manchester.
Lesley Hall, People Partner at Manchester Airport said: "Becoming an active workplace is an important move for us. We're giving our people the opportunity to be more active, with the development of our health and wellbeing strategy and we're running focus groups with our colleagues to find out what matters most to them. It's an exciting step forward as a business and can make a big difference in the long run - from an employee wellbeing, business and wider community perspective. It's just good business sense."