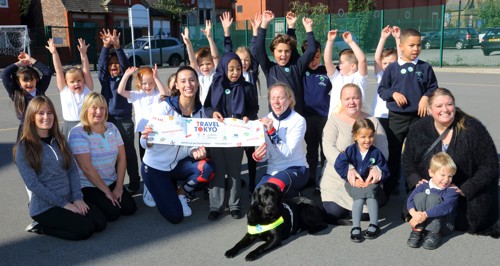 Lewis Street Primary School in Salford welcomed Taekwondo Olympic Bronze Medallist Bianca Walkden and Para cyling Gold Medallist Lora Fachie to celebrate their accomplishments in the Travel to Tokyo programme. With over 37,703 children and family members in 1,183 teams already involved and logging activity, they have been the first of many schools to earn a special visit from Olympic and Paralympic athletes. Families, teachers and pupils all came out to enjoy the athlete-led activities in Lewis Street Primary School, The National Taekwondo Centre and at Irlam and Cadishead Leisure Centre.
Travel to Tokyo aims to inspire children aged 5–11 and their families to try new activities and get active together in the run-up to the Tokyo 2020 Olympic and Paralympic Games. By joining athletes on an active journey from London to Tokyo, participants will be in with the chance to win some fantastic prizes as young people work together to reach the December 2020 finish line.
The programme is part of Get Set, Team GB and ParalympicsGB's youth engagement programme, with £2.6 million of National Lottery funding from Sport England, and support from partners including ukactive.
Beginning with a Wake & Shake to get pupils and their families in an active mood, parents, pupils and teachers then tried out the 10-minute activities that are speciality designed to keep teams moving whatever the weather.

Families then got to take their experience on wheels in an activity led by Paralympian Lora Fachie, that got all involved to see what it takes to be world class Para cyclist. Everyone can get involved in Travel to Tokyo and parents and teachers couldn't wait to try out a new activity together. Even 10 minutes of activity counts and can be logged for Travel to Tokyo by children and their families. By finding their new favourite activities, families can join in the fun while building long-term healthy habits.
Lora Fachie: "It's great to see a new generation of young people so exciting about getting active thanks to Travel to Tokyo! It has such a positive message in that pupils and their families can find their own favourite ways to get active and that there is a sport or activity for everyone out there and it's just about finding it."
Some very lucky families got the chance to join Bianca at the The National Taekwondo Centre to see what it takes to train for the Tokyo 2020 Olympic and Paralympic Games.  These taster sessions are available throughout the programme to give families the chance to try out new activities in sports clubs and facilities across the country.
Bianca Walkden: "It's great to be in Manchester and supporting a local school who have done such a fantastic job with Travel to Tokyo. My advice is to try new activities! It's important to shake up your routine and find new ways to get active so I'd encourage everyone to try all that's on offer in the Travel to Tokyo programme."
GB Taekwondo's Chief Executive Officer, Matt Archibald, said: "It's been great to provide the youngsters and their families with the opportunity to try some Taekwondo in such an inspiring environment, where Olympians, Paralympians and World Champions train together daily.
"With the inclusion of Para Taekwondo at Tokyo 2020, there's potential to encourage a new generation to get active with athletes such as, World Number One, Amy Truesdale and reigning World Champion, Matt Bush leading the charge."
The day was finished at the ukactive member Salford Community Leisure's Irlam & Cadishead Leisure Centre where leisure staff joined Lora Fachie to deliver the final set of activities of the day with all participants receiving a free family swim voucher. This is one of many leisure centres opening its doors and providing exclusive offers to Travel to Tokyo participants across the country. Everyone then headed home, inspired to log today's and future activities for Travel to Tokyo on the Get Set website: http://getset.co.uk/teachers
Chairman of the British Olympic Foundation, Dr Neil Townshend, said: "After such a positive start to the Travel to Tokyo programme across the country, today provides another opportunity to get the nation moving; we are already hearing some brilliant stories about how families have been getting active as part of their Travel to Tokyo.
It's fantastic to see the interaction between Bianca Walkden and the young people and their families and once again highlights the great work in communities that can be achieved through the power of sport."
Mike Sharrock, Chief Executive of the BPA: "I'm delighted that the British Paralympic Association, through the work of Get Set and the Travel to Tokyo programme – funded by Sport England - can help play such an important role in getting the nation active. 
As the focus turns to Tokyo 2020, I believe our Paralympians have the opportunity – and the ability - to encourage those around us to get moving and keep fit and healthy.  It's fantastic that so many families and young people have been encouraged to get up, get out and have a go at sport."
Mike Diaper, Executive Director Children and Young People at Sport England said:
"It is encouraging to see so many families joining the Travel to Tokyo programmes -  going on a journey to the Olympic and Paralympic games while getting active.
Regardless of level of experience, Travel to Tokyo creates a fun way for families to get active together. We know the importance of how working and playing together as family can build active habits. Children from active families are far more likely to take a positive attitude to playing sport or being active into their adult lives.
That's why we're investing National Lottery funding in the programme – to harness the excitement of the build up to the Olympic and Paralympic Games. We hope to see the programme continue to turn this excitement and inspiration into regular participation in sport and physical activity."