Salford, like other GM localities, has been working towards effective cross-sector working.
Our working assumption is that ongoing opportunities to jointly solve problems helps embed practices and processes for sustainable collaboration.
This encourages all parties to develop mutual appreciation of, and trust in, each other's skills and competencies.
For example, Salford Community Leisure (SCL) and Salford Youth Service (SYS) worked together to establish The Den youth centre.
Sport and physical activity is now recognised as both a means to help support the health and wellbeing of the young people in Salford, as well as to combat community safety issues and health inequalities.
Increased demand for services creates a challenge for SCL to deliver effectively.
Members of both teams have been working increasingly closely to try to address the issue with a substantively different way of working emerging.
Capacity and capability for this shift has been linked to the LP work in five important ways:
Time afforded by the LP and ringfenced to build the collaboration
Ethos of the LP
"Being solutions driven and tearing up the rule book."
Synergy with Salford principles of being youth led.
Test & Learn
"If something didn't work we could turn to the youth voice to understand why not and try something new".
A focus on quality provision for targeted groups – not numbers through the door, but what the individual's journey is and what impact it has.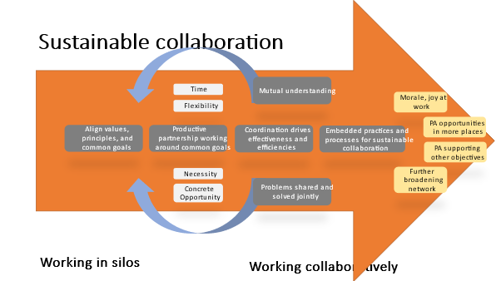 Whilst initially the focus was on the practical aspects of collaboration – networks and linking up different assets in a local area - success has been born out of the mutual understanding, respect and trust in each other's roles and competencies.
To an extent, a slight blurring of this knowledge and skill set has reinforced the reciprocity in the relationship.
This has not only increased capacity to deliver but has led to increased satisfaction and boosted morale from working together.
For people to collaborate they must not only see the benefits of working in partnership, but have conviction that it will not cause harm to their own job or organisational security.
As such sustainable collaboration may be supported by:
Common values and principles as well as common purpose or agenda.
Some degree of blurring of skills and knowledge.
Regular opportunities to collaborate and extend.
For a one page summary please download the infographic below.
Questions you could consider:
How might we create space for building trust and belief in the benefits of partnership working at a time of funding constraints and insecurity?
The full report here provides further detail, including first-hand testimony in the form of audio-visual recordings linked to passages in the report as well as self-contained and more detailed deep dive case studies.
Downloads