It was a cold, damp and windy day on the side of a hill in the Lake District. Along with a couple of colleagues we had entered a muddy obstacle course race and stood at the start line waiting to get underway. As our group set off we flew down the first hill and in to a trench of mud, literally 300 metres into the race and already I'd had more than enough. Hills, mud, fire, walls and electrocution were to follow and to be honest the electrocution was the best bit of the day. After what seemed like a day later, the final obstacle was the monkey bars over a skip of dirty water. I decided the best option was to use the skip as an ice bath and ended up having to be scooped out.  
This was the least fun I had ever had doing any kind of activity!
It got me thinking about whether this is the best way to encourage people to be active at work. Many workplaces use these kind of endurance events to encourage their staff to be active and team build. This is great for people who are active and have trained for the event, and I'm not dismissing these kind of events as for many, they do the job. But if you are like me and got involved because you thought it might be fun, then it could tarnish the words "physical" and "activity" forever.
What we want to do with Active Workplaces is change the perception of what an Active Workplace looks like; what are the simple steps and activities we can use to help the whole workforce move more during their working day. We want moving more to be normal at work, whether that is taking the stairs instead of the lift or having a walking meeting instead of sitting down in an airless, windowless meeting room for your One to One.
How many times have you gone to a meeting and announced your arrival at reception to only be told where the lifts are? This is despite the stairs, more often than not, being right next to the lifts.
How many times have you been given directions to your meeting by car and where to park? We rarely talk about public transport and how long the walk is from the station or bus stop.
We have been conditioned to think that this is the best way to act in our working day.
The GreaterSport Active Workplace Toolkit features "The Live Well Day" and how this can help you include 30 – 40 minutes of activity into your day without needing to don your PE kit or dreaded lycra. The Live Well day looks at commuting, taking the stairs, walking meetings, lunchtime activities and chair based exercises as examples of simple activities that can help us to move more. We also talk about other simple steps and the culture change needed to enable everyone to move more at work. 
Having Active Champions around your organisation is a huge help and means that you have support to be the Pied Pipers of movement. So if the lunchtime walk leader's meeting over-runs, then somebody else can step into their #ActiveSoles and take the team out. They can also act as the supporter in the office who is encouraging others and is setting the example. We have been working with many organisations on Active Champion Workshops and this is now showing great results with these champions feeding back about the impact they are having on workplace activity. The Department for Work and Pensions in Worsley, Salford, counted the steps they had taken and had walked the equivalent of Manchester to Istanbul between them. As a reward, they sampled the foods from the countries they walked through.
Other companies are supporting the That Counts! campaign and are using the accompanying toolkit to place nudge posters around their office. Posters displaying messages such as "Stretching whilst waiting for your printing" or "Calf raises while drying your hands" in the loo's are again promoting the simple changes needed to develop an Active Workplace.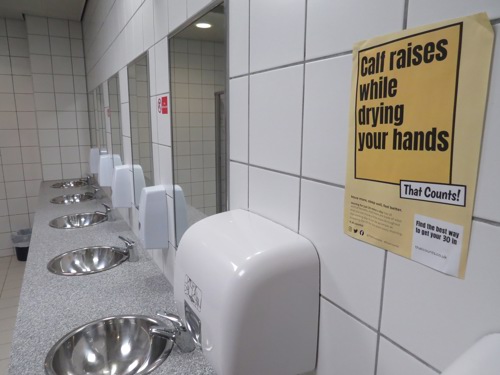 The thing about an Active Workplace is that it doesn't have to be that hard. We can still include the big endurance events because you will have people who will lap them up, but we need to start thinking about how we can encourage moving more every day, that everyone can get involved in. Moving more is a great thing to include in a health and wellbeing policy and can support you with targets around addressing mental health, absenteeism and helping your employees to be happier and healthier. We're seeing more and more businesses getting involved wanting to change what a working day looks like, and with just some simple steps are helping to make Greater Manchester a great place to work.