One Manchester Housing Association, GreaterSport, and local partners are collaborating to help residents of Beswick and Clayton in East Manchester to live healthier, more active lives and to connect the community together. 
The process began by looking at the strengths and needs of the local area using the model of a 20-minute neighbourhood (20MN).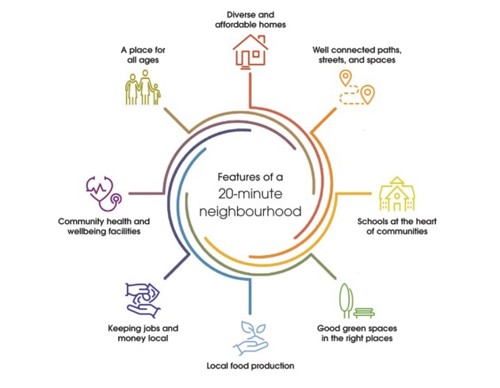 A 20MN has everything you need in your daily life within a 20-minute round trip of your home by foot or cycle, to include work, education, health, leisure, shopping and green space. 20MN's help to develop communities, improve health and help tackle inequalities by bringing amenities and resources directly to local communities.  This requires collaboration across sectors and partners.
A conversation between two enthusiastic partners has become a multi-partner conversation, including the Local Care Organisation and GP surgeries, local early-years and education experts from the local Sure Start centres. The Greater Manchester Ageing Hub and The Centre for Ageing Better, are supporting an age-friendly neighbourhood approach.  GM Walking and Transport for Greater Manchester are helping connect with work locally to develop and improve walking and cycling infrastructure and opportunities as part of the Bee Network and Active Neighbourhood plans and building on the new mapping function TfGM's Active Travel website to show what is accessible within just 15 minutes by bike, trike, wheelchair or on foot -  helping people to explore their neighbourhood.
"Partners came together in a place, each with different insight, knowledge and networks, united by a common goal to enable people to live a good and active life in their neighbourhood and a shared commitment to engagement and co-design. As partners there was a shared belief that involving local residents early on is fundamental – working alongside local people to ensure plans are owned and developed by the community for the community". John Brady, GreaterSport   
This is the start of a journey towards a more active neighbourhood. The impact and benefits for local people are not yet known but the learning and connections made so far have already enriched the GM Moving journey and network and have contributed to learning nationally through the TCPA Guide to 20 Minute Neighbourhoods and associated Coalition.