Trafford Overview

The latest Active Lives data shows that there has been an increase in activity levels across Trafford in the last 12 months. 77.1% of adults in Trafford are now moving (active and fairly active), this equates to 143,800 adults. Since Active Lives launched, November 2015-16, the inactivity rate has decreased by 4.3%, meanwhile in Greater Manchester the rate has increased by 2.6%.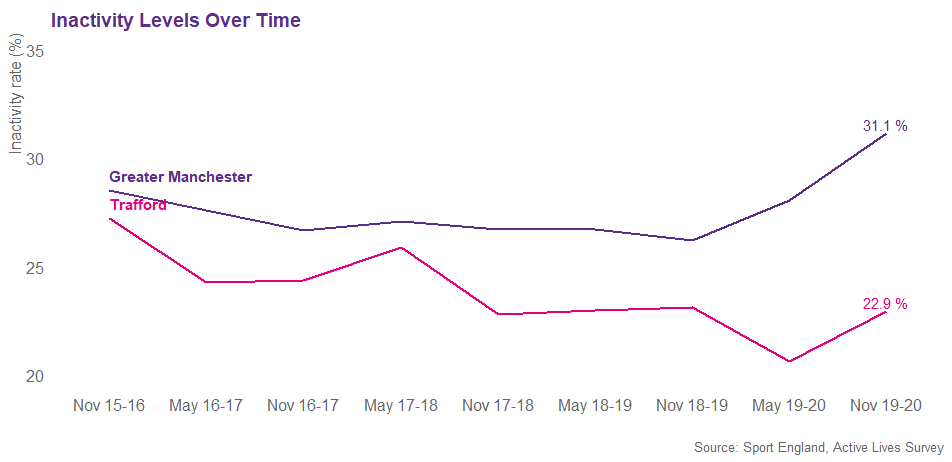 When this latest release is combined with activity data on children and young people, 165,600 Trafford residents are moving.
Find out more about activity levels of children and young people in Trafford here.
Demographic data
The inactivity gender gap in Trafford is 0.5%

Since November 15/16 the gender gap has decreased by 11.7%. This change is due to a large decrease in inactivity amongst women (-10.1%) and an increase in inactivity amongst men (+1.6%).

Inactivity socio-economic gap in Trafford

There was insufficient data collected from lower socio-economic groups within Trafford for any statistical analysis. 

Learn more about activity levels related to socio-economic status here

The inactivity disability gap in Trafford is 16.3%

Since November 15/16 the disability gap has decreased by 10.1%. This is driven by a decrease in inactivity amongst those with a long term limiting disability (-12.1%) over six times that of those with no long term limiting disabilities (-2.0%).

Learn more about activity levels related to disability and long term health conditions here

The inactivity age gap in Trafford is 24.2%

Since November 15/16 the age gap has decreased by 4.4%. This is a result of inactivity amongst over 75's declining (-9.4%) at a greater rate than for 16 to 34 year olds (-5.0%).

Ethnicity

Due to limited sample sizes we have limited ethnicity data across the Greater Manchester boroughs. In Trafford 21.4% of those from a White British background are inactive.