We have analysed the latest Active Lives data from Sport England to get a picture of male activity levels across Greater Manchester.
The latest release of data (May 2019/20) shows that 26.9% of men in Greater Manchester are inactive, compared to 28.8% of women. In the years since baseline (Nov 2015/16), male inactivity had been steadily decreasing, however, this latest release shows an increase on the preceding 12 months (+ 1.7%). Whilst female inactivity levels also saw an increase in this time period (+0.8%), this was a smaller increase than for men.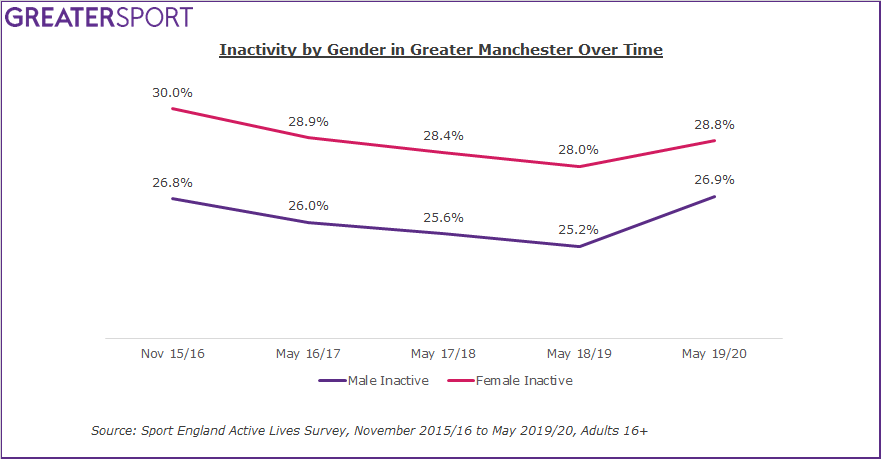 This greater increase in male inactivity is similar to that shown in national statistics, which we know have been impacted by the coronavirus pandemic. Nationally, comparing the start of lockdown, mid-March to mid-May, to that time period 12 months before men have seen a greater decline in activity levels compared to women (-8.9% v -5.4%). This is likely due to men being more likely to take part in team and racket sports which were restricted through lockdown. 
In most cases, men have lower levels of inactivity than women, however across Greater Manchester's boroughs three of ten, Bolton, Bury and Tameside, have higher levels of male inactivity than female.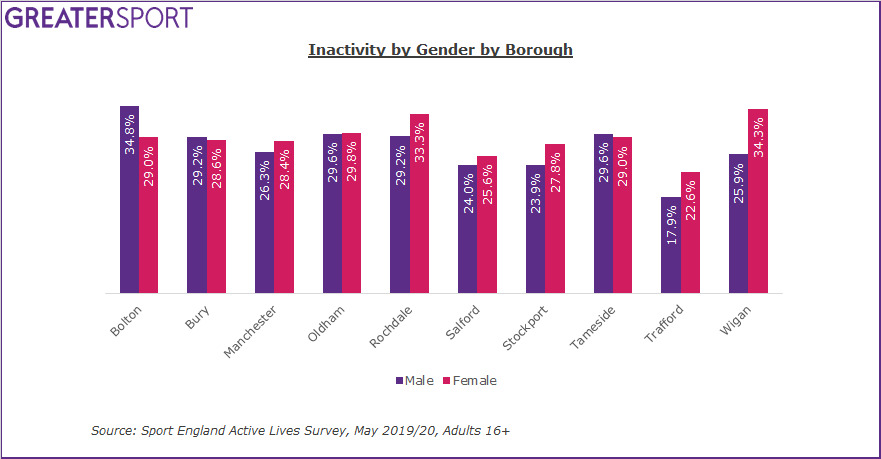 Other demographic information
The November 2018/19 Active Lives data shows that males with long term limiting disabilities are twice as likely to be inactive compared to men with no LT limiting disabilities (40.8% v 21.5%), a similar statistic to women (44.9% v 22.1%). 
The same data shows that there is an inactivity gap for men based on social-economic status. Men from NS-SEC 6-8 (lower social groups) have an inactivity rate 13.9% higher than men from NS-SEC 1-2 (higher social groups). This is lower than the socio-economic inactivity gap across GM overall (15.5%).
Older men are also more inactive then their younger counterparts with an inactivity age gap in men of 22.8%; 20.8% of men aged 16-34 are inactive compared to 42.8% of males aged 75+.
Published November 2020