LGBTQ+ people in Greater Manchester
There is an estimated population of 215,000 lesbian, gay, bisexual and trans (LGBT) people in Greater Manchester (GM) according to the LGBT Foundation - a population larger in size than the whole of Rochdale.
LGBTQ+Activity Rates
Due to small sample sizes, there's no LGBTQ+ data on activity levels available at a Greater Manchester level. From the most Active Lives (November 2019-20) we know that the national inactivity rate is 27.1% but this varies significantly across groups. Those who identify as 'Other' gender are more likely to be inactive than those who identify as male or female, in fact four in ten are inactive (40.6%).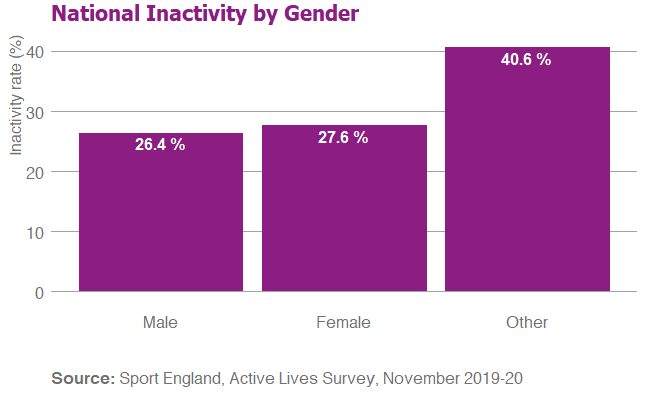 When exploring the data by sexual orientation those identifying as gay or lesbian have the lowest inactivity rates (21.5%), however, there are disparities between the activity levels of people who gay versus those who are lesbians – with gay men less likely to be active than lesbian women.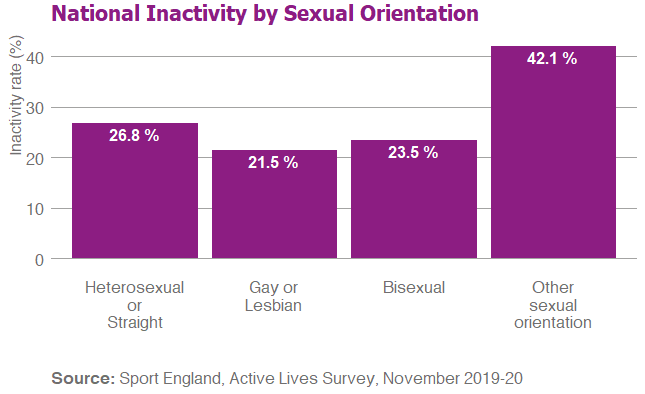 LGBTQ+ and Physical Activity
It's been shown that there are differences between LGBTQ+ men and women, and that general health outcomes for LGBTQ+ people are consistently lower than the average across the population. Physical activity may play a role in improving the mental and physical health of the LGBTQ+ population.
Data from a large, international study (Out on the Fields, 2015) suggests lesbian youth (84%) and lesbian adults (59%) were more likely to participate in team sports than gay youth (61%) and gay adults (37%).
A study by the National LGB&T Partnership, published in February 2016, raises concern about levels of physical activity amongst the LGBTQ+ community. Key findings of the survey include the following:

55% of LGBT men were not active enough to maintain good health, compared to 33% of men in the general population
56% of LGBT women were not active enough to maintain good health, compared to 45% of women in the general population
64% of LGBT people who identified as something other than male or female (eg genderfluid or genderqueer) were not active enough to maintain good health.
The evidence that LGBTQ+ people have disproportionately worse health outcomes and experiences of healthcare is both compelling and consistent. With almost every measure we look at LGBTQ+ communities fare worse than others. For example, research from Stonewall (2018) found that half of LGBT people (52 per cent) said they've experienced depression in the last year.
Published September 2021