Greater Manchester Overview

Moving Rates
The latest Active Lives data shows that there has been a decline in activity levels across Greater Manchester. 68.9% of adults in Greater Manchester are now moving (active and fairly active), this equates to 1,551,900 adults, in comparison 72.9% of adults are moving nationally. In the past 12 months the moving rate has declined by 4.9% in Greater Manchester.
Inactivity
Since Active Lives launched, November 2015-16, the inactivity rate has increased by 2.6%, meanwhile nationally there has been a 1.6% increase. This widening of the inactivity gap, between Greater Manchester and England, has primarily been driven by changes in activity over the last 12 months, in Greater Manchester inactivity rates have increased at almost twice the national rate, 4.9% compared to 2.6%.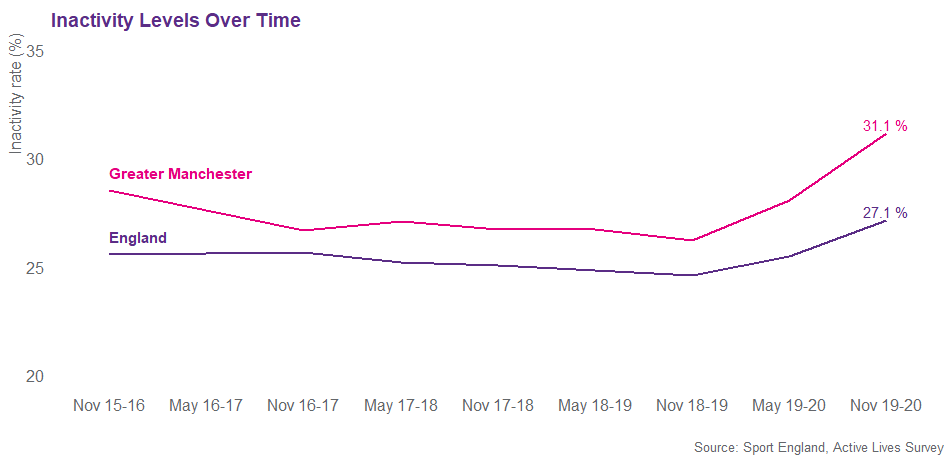 When this latest data is combined with activity data on children and young people the position towards our targets can be seen;

Find out more about activity levels of children and young people in Greater Manchester here.
Differences across the boroughs
There remain clear differences in activity levels across the boroughs of Greater Manchester with three boroughs above the national average for moving, Bury, Stockport and Trafford. However, the gap between the boroughs with the highest and lowest levels of moving now stands at 15.6%, compared to 11.4% in November 2015/16.