Calls to cut the clutter on pavements to inspire people to walk more
New data from Department for Transport shows that 74% of people would be encouraged to walk more if the pavements were clean, uncluttered and well-lit. Respondents also said that safer roads (45%), safer crossing points (44%) and direct walking routes (43%) would encourage them to walk more.
Street clutter includes things like advertising boards, badly parked cycles or scooters, disused phoneboxes or wheelie bins, which when badly-placed, can prove a needless obstacle.
An equality issue?
Obstructions on our streets can be particularly problematic for people with wheelchairs, buggies or those living with sight loss. This is particularly concerning given people with limiting disabilities are already less likely to be active than people without a disability and, because they are disproportionately affected by street clutter, do not have equitable access to public space.
By removing unnecessary street clutter, we can create more attractive public spaces that are accessible to all.
Walking in Greater Manchester
Over the last year, and through the Covid-19 pandemic, rates of walking in Greater Manchester for leisure has increased. However, the number of people walking in total has decreased. By encouraging more people to walk on our streets, we can reduce inactivity, air pollution and social isolation and make Greater Manchester a happier, healthier and greener place.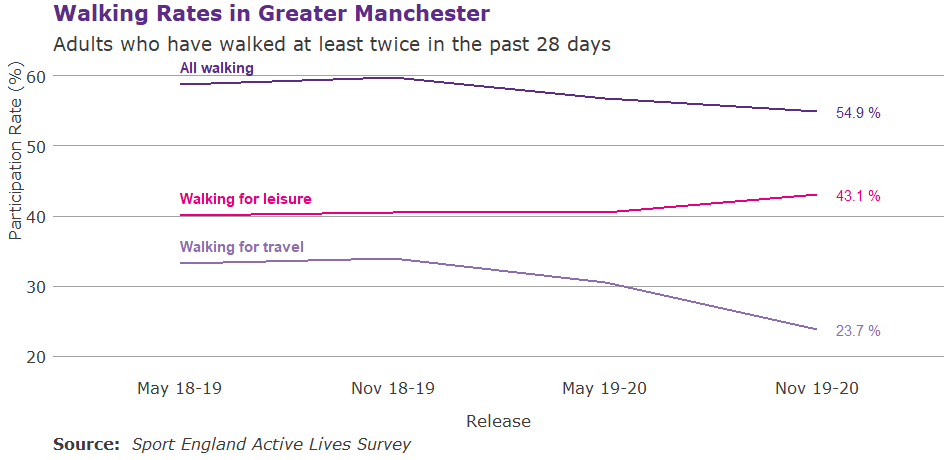 The Greater Manchester walking ambition is working across the system to ensure that considerations such as clearing pavement clutter are factored into the design of our towns and neighbourhoods for the benefit of anyone moving around their area on foot or in a wheelchair.
In addition, the TfGM Bee Network are using 'double buggy standard' for investment into new walking infrastructure, highlighting that the need for wide clear spaces is vital for walkable communities. For more information about what we're doing to increase walking across Greater Manchester, please see www.GMwalking.co.uk.
How can you help?
Living streets are campaigning for clutter to be removed from streets and have created a toolkit to help you declutter your local streets. 
Published May 2021