Previous investments into physical activity has had an almost exclusive focus on short-term interventions that target individuals or small groups. While some of these investments may have led to change, the impact at a population-level is small, and often unsustainable.
Place Partners in Greater Manchester
In 2018 Sport England recognised the need to test whether taking a behaviour change approach in a place, could enable sustainable change.  
To do this, they selected 12 areas across the country to be Local Delivery Pilots to test out this approach and share valuable learning with colleagues across the country. Greater Manchester was selected as one of these pilots, and you can find more information on the other 11 pilots here.
In 2023, the Local Delivery Pilot was rebranded as "Place Partners". This change in name reflects the significant progress made in our work and the transition from a testing phase to the full integration of this new way of working.
Since 2019, all 10 of the Greater Manchester localities and the town of Glossop have been involved in Greater Manchester's place partners work, with each locality developing their own vision on what place-based work and a whole systems approach on tackling inactivity looks like in their area.
To support the 11 localities the central GM place partners team have worked hard to create a shared identity and purpose creating an environment that encourages sharing, a safe space for innovation and testing new ways or working.
GM Moving have also embraced the Place Partner principles which can now be interwoven in our everyday work and has influenced a number of strategies. 
There are nine key principles for Place Partners that underpin this work: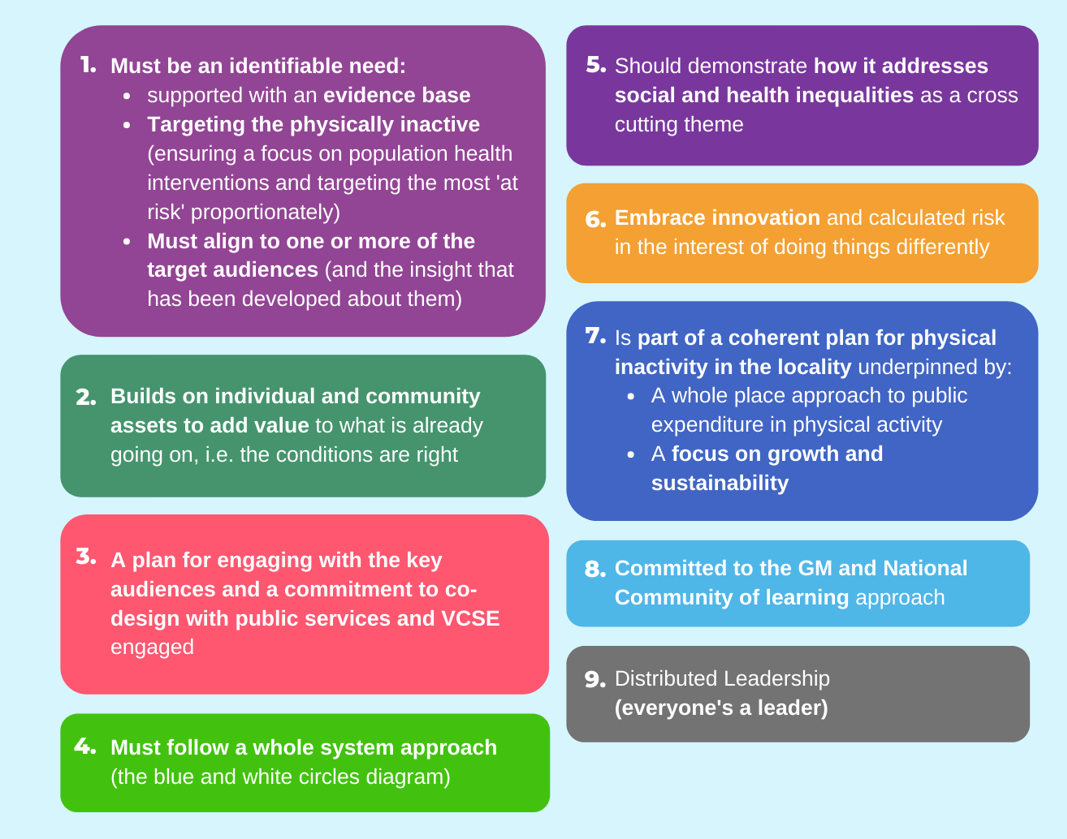 Place Partners in Greater Manchester key audiences:
Initially the work in GM focused on three key audiences:
Children and young people

-

C

hildren and young people aged 5-18 in out-of-school

settings

People out of work -

People out of work, and people in work but at risk of becoming workless

 

People with long term conditions -

People aged 40-60 with, or at risk of, long term conditions: specifically, cancer, cardiovascular disease, and respiratory disorders

 
The Place Partners work has now evolved and looks to demonstrate the impact and learning from the from the maturity of the system conditions, alongside the following five outcomes:
A reduction in inactivity amongst identified sub-groups of a population within a place.

 

A reduction in inequalities in inactivity in a place.

 

An increase in physical activity amongst identified groups of a population within a place.

 

An increase in the self-reported positive experiences of children and young people in physical activity/ sport within a place.
An increase in maturity of system conditions to support a whole systems approach to reducing inactivity.