GreaterSport is committed to providing equal opportunities and promoting diversity, irrespective of ethnicity, age, gender, sexuality, disability, religion or personal circumstance.
We believe in people. We believe that with the right opportunities, everyone should reach their full potential and we believe that moving more, sport and physical activity is a fundamental key to unlocking potential.
Equality, Diversity and Inclusion is critical for the success of GreaterSport and the achievement of our vision. We are fully committed to treating all of our employees, job applicants and volunteers equally.
As an employer, we aspire to being a diverse, inclusive and responsible organisation. Our aim is to have a workforce that reflects and understands the communities we work alongside.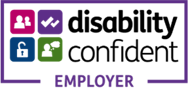 GreaterSport has been accredited as a Living Wage Employer; a voluntary benchmark for employers ensuring their staff earn a wage they can live on, not just the government minimum.
GreaterSport is a Disability Confident Employer, and as such are committed to recruiting and retaining disabled people and those with health conditions.