Partners working together to get Rochdale moving
Your Trust
purpose is to plan and manage the delivery of high quality, enjoyable, affordable, accessible cultural provision in Rochdale Borough that gives residents and visitors the opportunity to keep fit, and lead a healthy, creative, active lifestyle of their choice.
The venues aim to inspire health, encourage creativity and foster wellbeing for each and every member of Rochdale's diverse community. Throughout the borough, in leisure and sports centres, community centres and at Hollingworth Lake, there is an offer of a wide selection of activities to inspire people to lead a happier and healthier lives.
Rochdale AFC Community Trust
The official charity set up by Rochdale AFC to carry out community work and charitable projects across the borough of Rochdale. They share the vision of making Rochdale one of the best places in the world to live, work and play– a place where all voices are heard. They use the power of football and our community standing to raise aspirations and transform lives.
Learn about Rochdale in the community
Rochdale Hornets Sporting Foundation
Rochdale Hornets have the simple aim of having more people play rugby league more often. Using the power of professional sport, we will inspire children and adults to lead a healthier, fuller life and take a pride in their local community by using a variety of fun, engaging quality assured programmes.
Learn about the Hornets foundation
Big Life Group
Living Well is a partnership of services delivered by the Big Life group with Your trust and commissioned by Rochdale Borough Council who work together to help tackle the main causes of long-term ill-health in the borough linked to lifestyle choice. Living Well is to support people when living and feeling well feels too tough to tackle alone. They service people living in Rochdale, Heywood, Middleton and the Pennines who want to improve their health and wellbeing by stopping smoking, losing weight, getting more active, dealing with long-term ill-health linked to everyday living and much more.
Action Together – For stronger communities in Rochdale
Action Together knows that people can make things happen because we see it everyday. Across Rochdale, there are thousands of people changing lives, improving neighbourhoods and contributing positively to our local area. 
Action Together offers a range of support to strengthen communities. We believe that by learning together, sharing skills and pooling resources we can get more done.
Learn about Action Together Rochdale
Rochdale School Games Organisers
School Games Organisers (SGOs) have several key roles: to coordinate appropriate competitive opportunities for all young people from Key Stage 2-4, to recruit, train and deploy a suitable workforce, and to support the development of club opportunities for all young people. In Rochdale, the SGOs are;
Transport for Greater Manchester
TfGM have a number of schemes aimed at making active travel the number one choice for travelling to work, to school and to the shops. This includes 'The Bee Network' connecting up areas and communities in Greater Manchester, making it easy, safe and attractive for people to travel on foot or by bike for everyday trips.
Learn about the Bee Network in Rochdale
Rochdale's Local Pilot
The Local Pilot is a Sport England funded programme that invests in a behaviour change approach in a place to enable sustainable change and gain valuable learnings that can be shared across the country. From July 2018, Rochdale utilised research and insight to create their initial 12-month plan, starting from April 2019; this can be viewed here.
Rochdale's local pilot is working with the community in Milkstone and Deeplish and is focused on five key population groups: Children and young people aged 5-18 in out-of-school settings; People aged 40-60 with, or at risk of, long term conditions, residents who are socially isolated, residents whose physical and mental health has been impacted by Covid and; People out of work, and people in work but at risk of becoming workless.
The pilot work in Rochdale is being supported by multiple partners in the borough including, Rochdale Borough Council (Environmental Management, Work and Skills, Public health, Highways), leisure provider Your Trust, the VCSE organisation Action Together, Living Well and NHS Link workers.
Working with residents, the local pilot team in Rochdale were able to identify Stoneyfield Park as a community asset in Milkstone and Deeplish that was not being used to its full potential due to issues with drainage and lack of facilities. The pilot team quickly identified that the residents were wary of engaging due to repeated previous engagement in which they felt their voices not truly heard and had resulted in little action.
With residents help, the pilot team helped to establish a local influencers group made up of residents, community leaders, elected members and members of Rochdale Borough Council. The drainage of the park was completed in June 2021 and after securing investment from Townships, a co-design event was held with over 100 residents in attendance in August 2021.
To add yourself as a Rochdale Moving partner or find more information about the local pilot in Rochdale contact: [email protected] 
Walking in Rochdale
Across Greater Manchester, there is a clear recognition of the importance of walking to population scale change in physical activity and there is widespread understanding of the critical role of walking - for leisure, for travel and for everyday activity.
Rochdale is fortunate to have many areas of natural beauty across the borough, and walking is an ideal way to explore these greenspaces. There are many friendly, sociable group walks taking place each week that help the people of Rochdale to connect with others, discover the local parks, woods and moorland and support good health and positive wellbeing.
Cartwheel Arts Case Story
Designed in response to COVID-19, to promote creative exploration and wellbeing whilst in lockdown or isolation. Cartwheel Arts recognised the need to still support the communities they work with and have adapted their original project idea to support individuals and their families during lockdown.
*Borough Level Data: Please note that this data should be interpreted with caution, Covid-19 had a significant impact on data collection and the caveats for the data can be found here.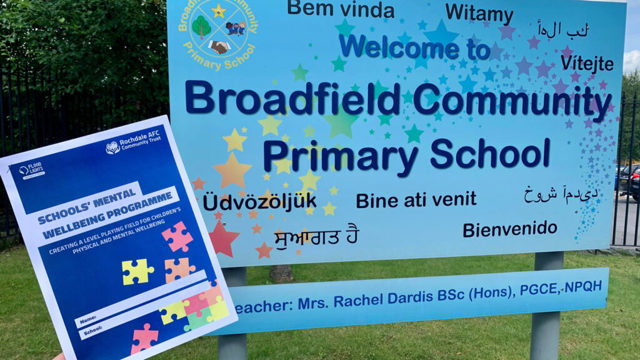 Year 5 pupils from Broadfield Community Primary School recently took part in Rochdale AFC Community Trust's (RAFCCT) first ever 6-week Schools' Mental Wellbeing Programme.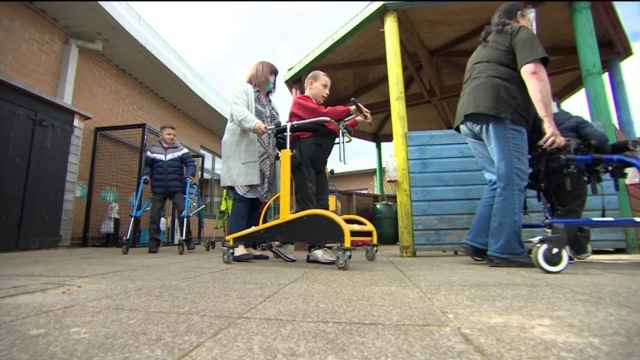 Deputy Headteacher at Springside Primary School, a specialist facility in Rochdale, explains how recovering The Daily Mile™ has benefited the physical and mental wellbeing of the children in the school's SEN community
Sport England released the latest active survey results on the 29th April that showed the impact of Covid-19 on physical activity.