School Games Competitions 20-21 
The GM School Games network have been working together in response to Government guidelines around Covid-19 to put in place their School Games offer for the academic year 2020-2021. 
With restrictions still preventing the majority of face to face competition opportunities, the SGOs from across GM have developed a range of virtual competitions for schools. They have been designed to allow schools to use flexibly for personal challenge, intra school competition and virtually to compete against pupils in other schools. The virtual competition briefs can be downloaded from this page. The GM Young Local Organising committee will take you through how to use the competition resources in this video. Please contact your local School Games Organiser for any supporting resources you may need.
The network hope to use this situation as a positive to focus on increasing participation and fundamental movement skills whilst preparing young people for a lifelong love of physical activity. 
Regular updates from each borough can be found via their websites, linked to from this page.
Covid-19 Support and Guidance 
We continue to work in collaboration to help ensure our schools and communities are supported during this time. Each local School Games Organiser will be able to offer support and guidance on resources and activities that can accessed for young people and schools within the current restrictions. This will allow our schools and communities to navigate and utilise relevant resources appropriate to their current situation, in the bid to keep young people active, healthy and happy.
As a network we have created a document to help support schools, teachers and non-PE specialists to incorporate physical activity back into the 'new normal'. Access the document here. Further guidance to support schools is also available from the Association for PE here and the Youth Sport trust here.
Keep in touch
To find out more about your local School Games offer or for more information about how events are run in your area please visit the borough-specific websites listed here.
We would love to see how you are being active and moving at home or whilst still in school, please share your pictures or videos with us (if you have permission from parents) on Twitter, Instagram and Facebook. Use the hashtags #BackToSchoolGames #GMSchoolGames and #KeepMoving and don't forget to tag your borough. The information to tag them is within the image below.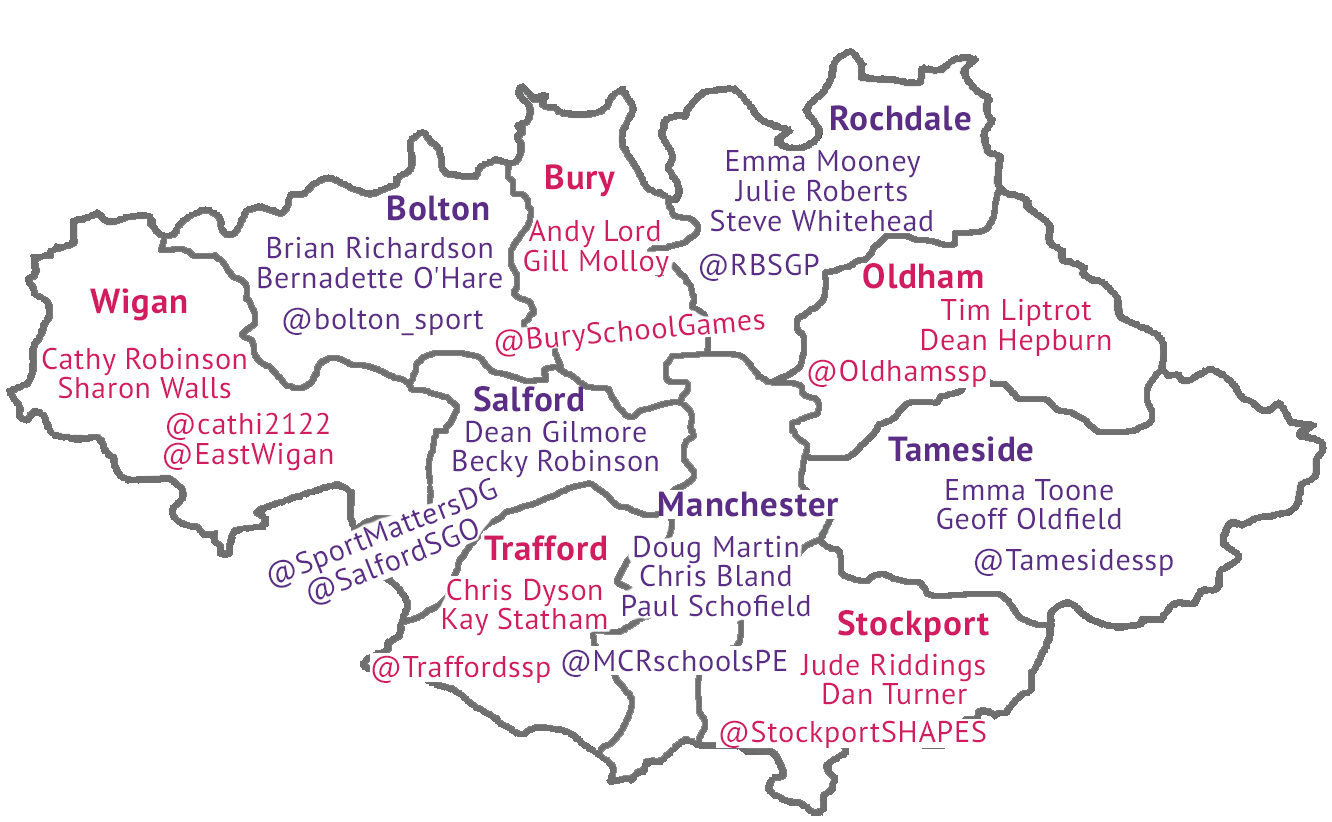 Wider School Games Network support
As part of the national effort to support our young people to stay active during Covid-19 a number of partners directly linked to the School Games have released a series of resources to help continue with their support for the School Games programme. These come directly from the School Games and include resources from a number of National Governing Bodies.
School Games Active Championships
Through the TopYa platform, young people will be tasked with sharing videos of their attempts at a series of physical challenges. These videos will be reviewed by a virtual coach, who will provide feedback. Young people taking part will have the option to join in the School Games Active Championships TopYa leaderboard. Challenges are live now and are uploaded every Monday, Wednesday and Friday.
For further information about how to get involved click here.
National Governing Bodies (NGB)
National Governing Bodies of sport are also contributing a daily supply of activity cards, tailored to primary and secondary-aged pupils. The resources are being made freely available to all from the School Games website and are intended to support the innovative work School Games Organisers have been undertaking in their local areas during school closures, helping local schools, families and young people
For more information on the NGB activities click here.